Thassos,
the emerald island.
Thassos island is paradise on earth, with a combination of crystal-clear water beaches and a mountainous landscape full of amazing pine trees, olive groves and panoramic views of the Aegean Sea. Wherever you go, you will encounter a stunning scenery, full of natural beauties and archaeological sites.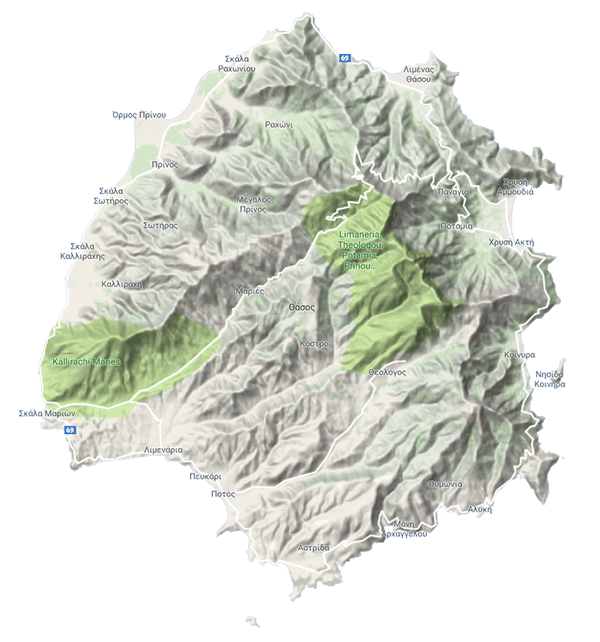 Discover the hidden treasures of Thassos island.
Potos is a cosmopolitan seaside village on south side of Thassos island,  famous for its nightlife and cosmopolitan atmosphere. Within a short distance, you will be able to find whatever you need during your holidays.
The southern part of Thassos is an ideal location for holidays and, combined with your stay at El Greco Suites, a great option for families.
You will be surprised to see the variety of the fun experiences and activities that the island has to offer you. This variety of activities, among others, will help you discover hidden treasures of Thassos island in ways you could never imagine!
Thassos is littered with dozens of amazing beaches and hidden coves all over the island, renowned for their crystal clear waters. Every visitor will find a beach of his liking to relax & enjoy, whether it is a sandy or a pebble one.
The beauty of the island is undisputed and is considered one of the most diverse and beautiful islands on the Aegean sea.
There are various archeological & cultural sites throughout Thassos Island but we recommend a visit to the archaeological museum. The museum is considered one of the most important museums of the area, it exhibits collections of archeological finds from the 7th century BC to the 7th century AD.
The majority of museums on Thassos are of culture and folklore, providing interesting insight on the every day life of the island's residents of the past.
Take advantage of Thassos's old footpaths which link the traditional villages and discover the interior of the island which remains almost completely undiscovered.
There are frequent organized trekking and hiking excursions led by experienced professionals with a deep knowledge of the island's well-hidden beauties.